Embroidery Workshop
Here at Craft Labs, participants get to discover the art of embroidery and immerse themselves in the world of stitching and imaginative design. Get lost in the world of complex stitching and imaginative design by learning the art of embroidery. Our embroidery workshop provides an amazing opportunity to master this timeless craft and produce lovely, custom-embroidered items.
Embroidery Workshop in Singapore ― Powered by Crafts Lab
Embroider your designs today! The art of embroidering involves using a needle, thread, or yarn to decorate a piece of fabric. You may embroider on two different types of fabric at epic workshops: little pouches and cup holders. Here at Craft Labs, you'll learn how to add colour to a plain piece of fabric by embroidering easy, feminine patterns on it. You can continue to perfect this embroidery technique with the skill sets you learned in the workshop because all you need is a pair of hands, some thread, and a needle!
Embroidery Workshop Details
Benefits of Embroidery Workshop
Skill Development
Taking part in an embroidery workshop is a fantastic way to develop your stitching skills.
Workshops are frequently run by knowledgeable trainers who walk participants through different embroidery
patterns, stitches, and methods. Participants can learn new skills and advance their embroidery ability through hands-on
guidance and coaching. As participants create a tangible craft they may enjoy for years to come,
learning these skills can be both rewarding and powerful.
Stress Relief and Mindfulness
Both the mind and the body can be calmed by embroidery. A sense of calm
and mindfulness can be facilitated by the repetitive nature of stitching and the
concentration needed to complete it. Participants can immerse themselves in
the craft while letting go of daily worries and having a calming experience in the
supportive and exciting setting of embroidery courses. As well as developing mindfulness
and aiding in the reduction of stress and anxiety, stitching can improve hand-eye coordination and attention.
Creative Outlet
Individuals can exhibit their talents through embroidery workshops.
A beautiful and individualised item can be made with embroidery, which is an art technique that
lets participants play with colours, textures, and designs. Through these classes, participants can discover
their creative side, pick up new skills, and create their own distinctive style. A creative activity like stitching may
be satisfying and relaxing, providing a break from daily tasks and enabling people to use their ideas.
Why Should You Choose Us?
Connected with the best institutions of Singapore
Have served the greatest number of workplaces in Singapore
Meticulously planned activities to enhance workplace productivity and team motivation level
Known by all type of business scales
Worked with international corporations and clients in Singapore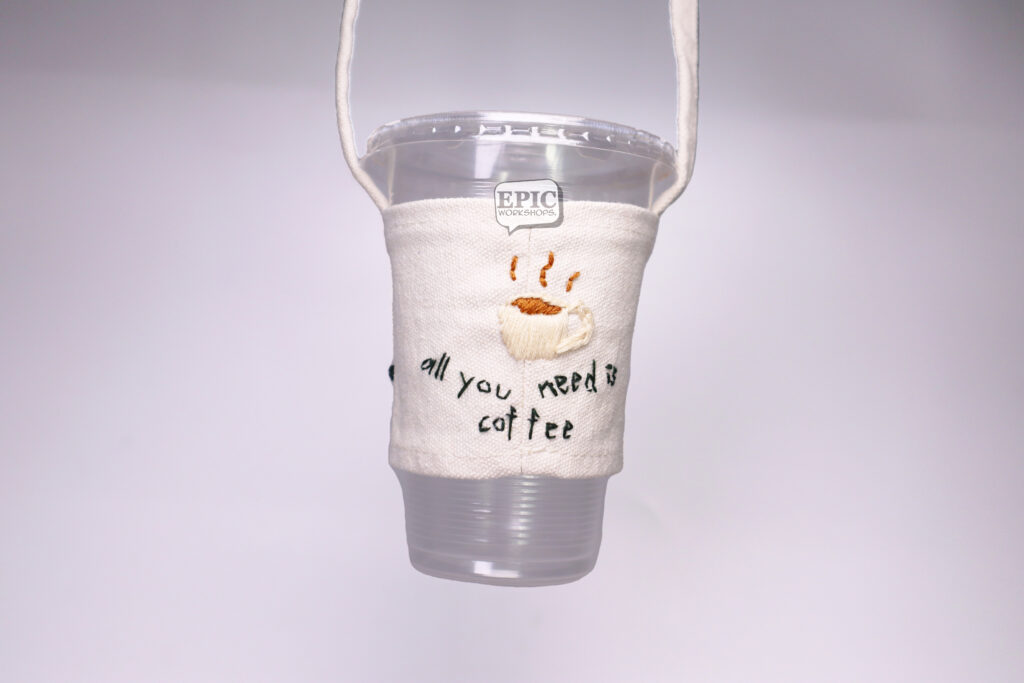 Experience Embroidery Workshop With Craft Labs
Here at Craft Labs, cup holders are one of the more well-liked fabric varieties that are embroidered on. Along with a lovely embroidered craft, you'll also have a useful item you can utilise as a carry-on. The skill sets needed for embroidery are very simple to learn because many stitches are essentially repetitive and appear similar. Come along to our embroidery workshop and take on a journey of self-discovery and expression. Our Epic team guarantees to provide a wonderful and engaging experience that will fire your enthusiasm for embroidery, regardless of your level of experience. Don't miss out this chance to express your ideas and interact with a group of like-minded individuals. Today, reserve your space to get prepared to stitch your way towards artistic achievement.
Unleash your creativity with Craft Labs Embroidery Workshop in Singapore ― Unlock your creative potential through the art of embroidery!
Get a slot reserved for your team and family members by getting in touch with one of our representatives. We are offering:
Beginner-friendly Embroidery Workshop
Embroidery workshop as a new hobby.
Team Building experiences through Embroidery workshop
Private events, Birthday Parties and Hens Party
It just does not stop here ― our creativity and planning knows no boundaries!
We love bringing people together with the power of art, imagination, and creativity. Don't think too much. Book a slot today!
Embroidery Workshop FAQ
Do I need any prior experience in embroidery to attend the workshop?
No, the workshop welcomes participants of all experience levels. The workshop is set up to accommodate everyone, whether they are complete beginners or have some embroidery expertise.
Is there a minimum age requirement to attend the workshop?
Suitable for people of all ages. Children below the age of 10 are advised to come with a guardian for supervision.
How do I embroider ?
There are many different embroidery techniques. To stitch your designs down, you can either use a sewing machine or a thread and needle. However, it is typical for many people to embroider using just a thread and needle. The tapestry would be withdrawn at the front and the needle with the thread would be inserted down through the tapestry once again to the rear side to complete the needlework. This is how one stitch is made, and a project is made up of several stitches.
Is embroidery a tough skill to master?
Anyone can embroider, just like with any other type of art. The ability to determine if an embroidery piece is good or terrible depends heavily on the individual's particular aesthetic preferences. Because embroidery is not very difficult, you may be confident that your finished product will be special and one of a kind. You can always choose a simple design if you're not too confident in your embroidery skills because it will require less stitches to complete.
What materials do I need to bring?
One would require a pair of hands, an embroidery hoop, and an embroidery needle and thread. With these supplies, you may start an embroidery project quickly because you can actually embroider on any type of fabric. Take a used shirt and begin to embroider; who knows? The shirt can end as being among your most distinctive and beloved outfits.
How can I care for and preserve my embroidered pieces?
Washing: Hand washing is always preferable for your embroidery products because it is gentler to the fabric. Avoid using harsh chemicals or bleach since they could harm the embroidery thread. Use a mild detergent instead.
Drying: It is advisable to let the embroidery product air dry after washing so that it can dry naturally and won't shrink as a result of heat from the outside environment.
Ironing: Iron the item at a low temperature to prevent damaging the threads. Avoid directly ironing over the embroidery design to prevent damaging the thread from the heat. When pressing is required, use a cloth.
How can I incorporate embroidery into other crafts or projects, such as clothing, home decor, or accessories?
Clothing: You can embroider patterns onto regular t-shirts, blouses, or dresses to make one-of-a-kind, personalised clothing. For a more stylish look, you can add embroidered patches or appliques to coats, pants, or hats.  Add a touch of elegance by delicately embroidering collars, cuffs, or hems of clothing.
Home Decor: To add a splash of colour and texture, you can embroider beautiful designs on throw pillows, cushion coverings, or bed linens. In addition, you can personalise tablecloths, napkins, or placemats with monograms or complicated patterns. Create framed embroidery art or embroidered wall hangings to beautify your home.
Accessories: To create a distinctive and fashionable item, embroider patterns or initials on handbags, totes, or backpacks. You may apply fine stitching to enhance the attractiveness of scarfs, shawls, or hats. Add small embroidered designs to wallets, coin purses, and keychains to make them your own.
Jewelry: You can create jewelry using embroidery by embroidering tiny designs on cloth and framing them with pendants, brooches, or earrings. Make striking necklaces or friendship bracelets with vivid and eye-catching designs using embroidery floss.
Can men embroider?
Of course! Regardless of gender, anyone can appreciate the innovative and adaptable skill of embroidery. There are no age, gender, or other demographic restrictions on embroidery. People from all backgrounds are welcomed and encouraged to express themselves creatively via this inclusive craft. So go ahead and give needlework a go if you're intrigued!
How do I pick the best thread for embroidery?
The embroidery thread you choose will primarily depend on the final appearance and result you seek. For instance, silk thread is the best choice if you want to embroider on delicate fabrics.
But since many of our projects call for thicker materials like t-shirts and wallets, we usually choose polyester embroidery thread. On the other side, by cutting our thread into smaller pieces, we may also opt to make our stitches thinner. Our threads are typically created by weaving together a few strands of thinner threads.
Therefore, we may always use a strand of thread rather than a lot of them for a sleeker finish.
How can I make a reservation?
Please call us at 6355 0329 or email us at contact@craftlabs.sg for reservations or enquiries. Our friendly staff will be glad to assist you.
Request A Free Quote
Choose from a wide variety of Indoor Team Building Activities from 5 to 400 pax!
Trusted by these esteemed clients: