Ceramic Tiles Painting Workshops in Singapore
From beautiful mandala patterns to fascinating landscape paintings, in CraftLabs, our tiles painting workshop allows you to transfer and gather all your ideas into a cute ceramic tile. In our workshop, you will use acrylic paints, paintbrush and your imagination to form a mini masterpiece. We also offer both individual and team building options. Furthermore, we provide add-on mounting services as well. Join us today, and discover an interesting form of art.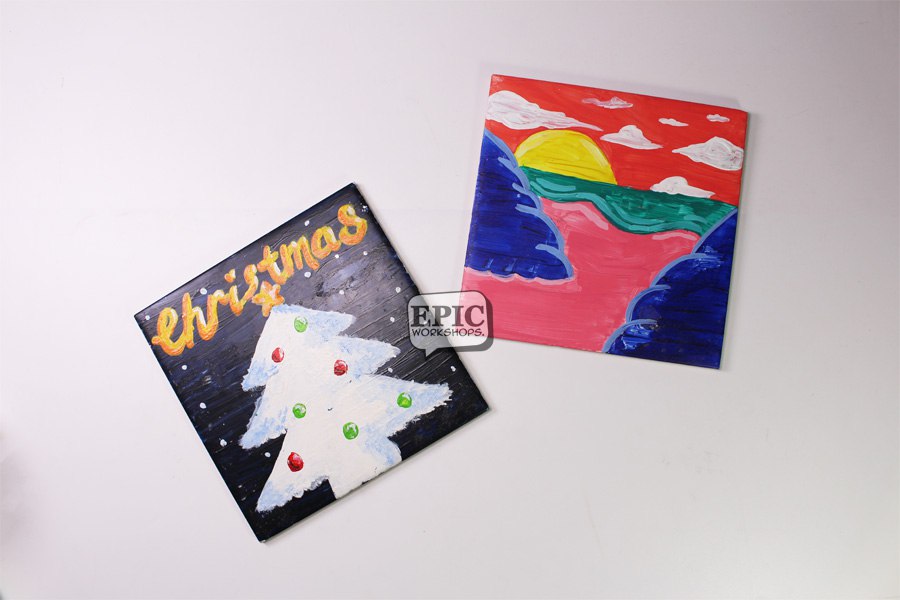 Ceramic Tiles Painting Workshops in Singapore - Powered By Craft Labs
Here at Craft Labs, we offer Ceramic Tiles Painting Workshop for people of all ages to express themselves through art and create a unique piece of art. The Ceramic Tiles Painting workshop provides participants with the opportunity to learn new skills, express their artistic side, and create their own unique ornamental pieces that can add a unique touch to the decor of homes and other areas.
Ceramic Tiles Painting Workshop Details
Benefits of Tiles Painting Workshops
Team Building
The tiles painting workshop is a great way to foster team building as participants will need to paint, bearing
in mind the organiser's theme of the day. At the end of the workshop, to enhance the team building experience,
the tiles which were painted individually during the workshop can be joined together to form a decorative wall
mural. This can then be placed at your workspace, so every time you step in to the office, you'll be welcomed with
a beautiful masterpiece done by you and your team.
Therapeutic Activity
Painting is therapeutic and helps to shake one's stress away. Moreover, with our team building ceramic tiles
painting workshop, participants get to assemble their painted tiles together to form a big mural art, which is a
visually stunning way to bring vibrancy and colours to the office.
Why Should You Choose Us?
Connected with the best institutions of Singapore
Have served the greatest number of workplaces in Singapore
Meticulously planned activities to enhance workplace productivity and team motivation level
Known by all type of business scales
Worked with international corporations and clients in Singapore
Unleash Your Creativity With Craft Labs Ceramic Tiles Painting Workshops In Singapore ― Design Your Own Tiles Today!
Get a slot reserved for your team and family members by getting in touch with one of our representatives. We are offering:
Ceramic Tiles Painting workshops for beginners.
Ceramic Tiles Painting workshops for enthusiasts.
Team Building experiences through Ceramic Tiles Painting workshops
Private events, Birthday Parties and Hens Party
It just does not stop here ― our creativity and planning knows no boundaries!
We love bringing people together with the power of art, imagination, and creativity. Don't think too much. Book a slot today!
Tiles Painting Workshop FAQ
Cab Craft Labs Art Jamming Sessions be customised to my needs?
Yes! Other than our standard sessions, we also offer services catered to our customer's needs to provide them with a more satisfactory experience.
Do I need to bring my own materials?
No, all the materials such as paint brushes, paint, tiles and aprons will be provided.
What if I have no prior art experience?
We believe that everyone should have the right to create art, so we welcome people of all backgrounds and ages with or without art experience! If you are unsure on how to express your ideas on tiles, our friendly art facilitators will be there to guide you!
What can I expect from the workshop?
Our professional trainers will start off the workshop with a presentation to equip participants with the basic painting techniques. We will teach participants on how to create their desired effects on canvas. Fret not, we will customise our presentation according to the audience be it students or adults. Following which, we will begin with the hands-on session and each participant will get to bring home their own masterpiece.
Where will the Ceramic Tiles Painting workshop be held at?
Workshops can be held at our studio at Epic Workshops or your location of choice. We are located just 2mins walk away from Marymount MRT(CC16). We're based at MAPEX Building, 37 Jalan Pemimpin, #03-10 (s)577177!
How can I make a reservation?
Please call us at 6355 0329 or email us at contact@craftlabs.sg for reservations or enquiries. Our friendly staff will be glad to assist you.
Request A Free Quote
Choose from a wide variety of Indoor Team Building Activities from 5 to 400 pax!
Review From Customers
Kenneth
Attended the tiles painting workshop conducted by BQ. It was a fun and chill painting session to destress!
Ruben
I had so much of fun during the tiles painting workshop organised by my company
Melicia
The workshop offered an enjoyable, educational, and creative experience, and I highly recommend it to anyone looking to express themselves through art.
Jospeh
Our instructor Dora was very knowledgeable and helpful, taking us through each step of the process and providing us with all the necessary materials
Hidayah
The end result was a beautiful piece of art that I'll be able to cherish forever all thanks to our helpful instructor and facilitators!
Trusted by these esteemed clients: