Succulent Terrarium Workshop
Learn how to make a beautiful and low-maintenance miniature desert ecosystem out of cactus and/or succulents right in the heart of Singapore. Our skilled educators will walk you through the steps of creating your own personalized terrarium, using only the best materials and plants. Whether you're a nature enthusiast, a plant enthusiast, or simply seeking for a fun and instructive activity, our Succulent Terrarium workshops are the ideal way to learn how to construct a Succulent Terrarium and take home a one-of-a-kind, living masterpiece.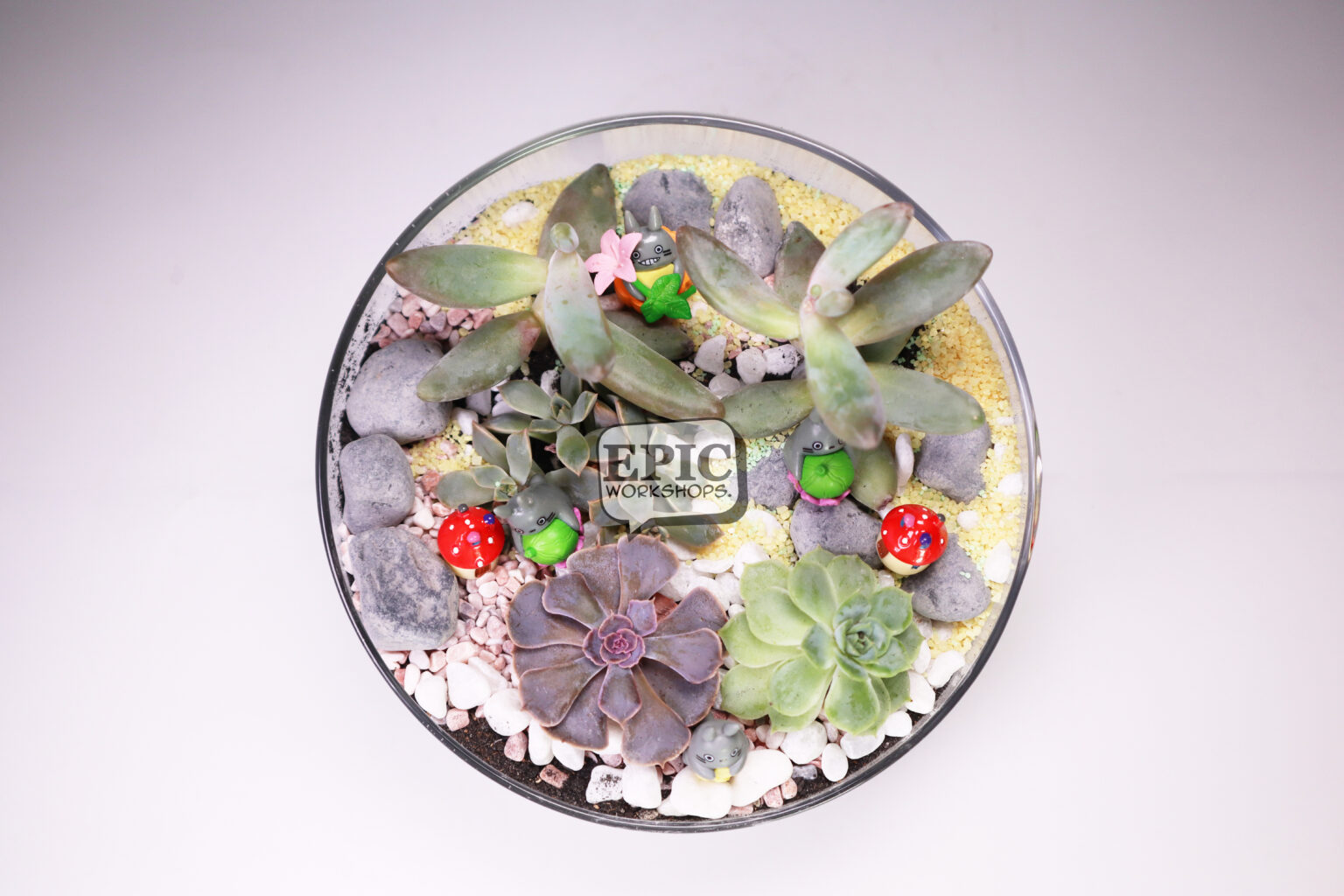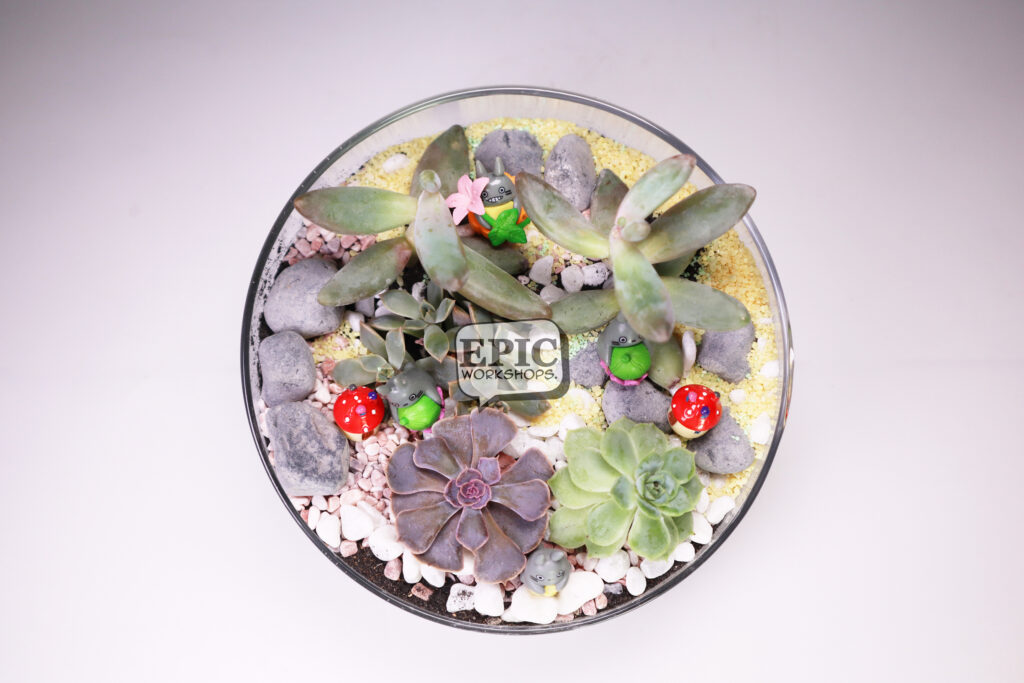 Succulent Terrarium and Team Building Workshops in Singapore ― Powered by Crafts Lab
A succulent Terrarium Workshop is a workshop in which you will create a terrarium loaded with lovely succulent plants that are easy to take care of for. It's a terrarium in a nice glass container with a choice of succulents, substrates, and ornaments. Succulents used in the succulent terrarium include: Jade plant, Panda Plant (Kalanchoe Tomentosa), Stonecrop (Sedum), Echeveria, Haworthia, Dudleya, Burro's tail (sedum morganianum), Aloe, and many more. They flourish in open terrariums with dry and arid air. They also don't need much water to survive because their leaves can store water. In addition to the succulents, you can add various decorations to the terrarium's hardscape. Here at CraftLabs, we provide variety of colourful stones and sands, as well as small figures, to help you decorate your terrarium.
If you're afraid that you don't have a green finger, don't be. Our team of professionals will walk you through the full process of planting succulents in glass jars and maintaining a succulent terrarium. Simply following the guidelines will ensure that the succulents flourish and survive!
Succulent Terrarium Workshop Details
Benefits of Succulent Terrarium Workshop
Team Building
EPIC Workshops may accommodate a large group of individuals creating a large succulent terrarium or individual
participants creating their own terrariums. Making terrariums can help enhance teamwork. Participants in the group
terrarium making can work together to produce an innovative terrarium within the team, or every participant can make
their own terrarium and create a story explaining their designs. Because this is a group activity, each member will be
entrusted a task of caring for the plant by watering and nourishing it. The finished product can then be displayed in a
communal space as a reminder of their collaborative team effort.
Stress Reliefs
Terrarium crafting helps to relax and teaches patience. Participants will learn how
to maintain and care for their terrariums. Participants will also discover the significance of being responsible in
order to keep the terrarium healthy! Terrarium creation is also a mindfulness practice that can help you stay focused
while briefly distracting you from all the tensions around you. It might help you feel calm and lively for future activities.
Why Should You Choose Us?
Connected with the best institutions of Singapore
Have served the greatest number of workplaces in Singapore
Meticulously planned activities to enhance workplace productivity and team motivation level
Known by all type of business scales
Worked with international corporations and clients in Singapore
Succulent Terrarium Workshop caters to
Succulent Terrarium Workshop FAQ
What is a succulent plant?
Succulents are plants that have fleshy, enlarged leaves and/or swollen stems that may hold water. The term "succulent" is derived from the Latin word sucus, which signifies juice or sap. They are adapted to survive in low moisture environments for lengthy periods of time due to these unique characteristics of thick stems or leaves that hold water. As a result, even if you are new to gardening or believe you do not have green fingers, planting succulent plants is a terrific place to start.
Because of their unusual appearance and minimal care, these plants are particularly popular houseplants or decorative plants. They come in a variety of forms and sizes. Some are even brightly colored due to the flowers they produce. They can then be used to make terrariums. Succulent plants typically used in succulent terrariums include the Jade plant, Panda Plant (Kalanchoe Tomentosa), Stonecrop (Sedum), Echeveria, Haworthia, Dudleya, Burro's tail (sedum morganianum), Aloe, and many others.
Succulent plants are not only amazing low-maintenance houseplants, but they are also good to improve our overall wellness. They can help filter the air and eliminate volatile organic compounds (VOCs) to clean the air, lowering the risk of contracting certain diseases.
What kinds of plants can be used for terrariums?
Terrarium plants should be slow-growing and heat-loving. The plants used in our succulent terrarium workshops will be succulents or cactus. These plants can only be grown in an open terrarium and do not require much watering.
How frequently should I water my succulent terrarium, and how should I do it?
Start watering the succulent terrariums only when the soil is completely dry. Depending on where the terrarium is located, once every 5 to 7 days. To see if the soil is completely dry, insert a toothpick or a wooden chopstick into it for 3 to 5 minutes. If the toothpick or chopstick has a water mark after being removed, the soil is still damp. If the soil is dry, you can water it until it is moist. Keep in mind not to over-water!
What kind of lighting conditions are ideal for succulent terrariums?
Succulent terrariums differ from the traditional terrariums that we have. Succulents are plants that thrive in direct sunshine! It is best to position your succulent terrarium in a sunny location, especially near a window where it will receive brilliant indirect sunlight. Place it away from direct sunshine to avoid scorching the plants. It would be ideal if the location had a fan or was exposed to wind. This will maintain low humidity levels suited for succulent plants.
Can I add different types of plants to the succulent terrarium?
Succulents can only flourish in low moisture, arid environments. If you have plants that grow in comparable conditions, you can combine them in the succulent terrarium. Of course, the size must also be considered. In most succulent terrariums, there will already be a variety of succulent types present. It is not necessary to add other plants to make it more visually appealing. In a succulent terrarium, do not include moisture-loving plants like moss or fittonia.
Can you conduct succulent terrarium workshops at schools?
Without a doubt, yes. We will impart some science knowledge of plants and how they grow in terrariums during our terrarium classes. On the school's request, we can even include more science information based on the science syllabus. However, we may be unable to cater to cactus because they are too risky for students to handle.
Is there a limit on how many people can attend the succulent terrarium workshop?
The Succulent Terrarium workshop may accommodate up to 50 participants in our studio. You have the option of choosing your own venue with a higher maximum capacity for groups with more than 50 attendees. Our trainers can gladly travel to your preferred location and accommodate you there!
How can I design my Succulent Terrariums
You can select from the various sorts of succulents provided during the session. You can customize it by selecting from a variety of options. You can then place your succulents in any region of the glass jar that we give. This will decide the type of landscape you will create. We provide colored sand, stones, and figurines for $2 and above. You can even add your own decorations and figurines to your terrarium.
What types of succulents do you provide at your workshop?
Succulent plants suitable for succulent terrariums include the Jade plant, Panda Plant (Kalanchoe Tomentosa), Stonecrop (Sedum), Echeveria, Haworthia, Dudleya, Burro's tail (sedum morganianum), Aloe, and many others. Depending on what is available, we can provide different types of succulent plants in different workshops.
What should I expect from the succulent terrarium workshop?
You may expect to learn new things about terrariums and succulent plants at our succulent terrarium workshop. You will also be able to learn about the various procedures involved in creating your own succulent terrariums. The trainers and facilitators will walk you through the hands-on terrarium construction process, from layering materials to unpotting and putting succulents into the jar. After you've added the succulent plants, feel free to decorate the terrarium landscape using the decorative elements we provide. It is time to let your imagination run wild! Here at Craft Labs, we will ensure that terrarium creation is enjoyable!
How long is the workshop going to last?
The succulent terrarium workshop will last approximately 1 to 1.5 hours.
How can I make a reservation?
Please call us at 6355 0329 or email us at contact@craftlabs.sg for reservations or enquiries. Our friendly staff will be glad to assist you.
Request A Free Quote
Choose from a wide variety of Indoor Team Building Activities from 5 to 400 pax!
Review From Customers
Wani
It's my first time taking part in succulent terrarium workshop and it was so fun!
Rachael
Our instructor Sarah was so friendly and helpful. My colleagues and I have learned a lot through this workshop and had a great time!
Fadhilah Yusof
This workshop was very relaxing and chill. My child had a fun time creating a succulent terrarium with me and our instructor Sarah guided us step by step.
Suresh
I did the Succulent Terrarium workshop! I had so much fun creating and decorating my own terrarium
Nur Atiqah
Ivan was very funny and engaging during the workshop. The workshop was enjoyable and relaxing!
Jemine
Our facilitator Jason, was very friendly and patient during the workshop! He was very knowledgable about terrariums and was so happy to assist all of us.
Trusted by these esteemed clients: