Calligraphy Pouch
The calligraphy pouch workshop held by CraftLabs is a perfect opportunity for participants to decorate and keep their very own unique canvas pouch. Elegant and classy, participants will make use of modern calligraphy under the guidance of our in-house artist to design their unique calligraphy lettering onto their own pouch. Learn how to write and style your favourite quotes or simply draw whatever you like. Book a session with us now, and add this marvelous little artpiece into your collection of bags today.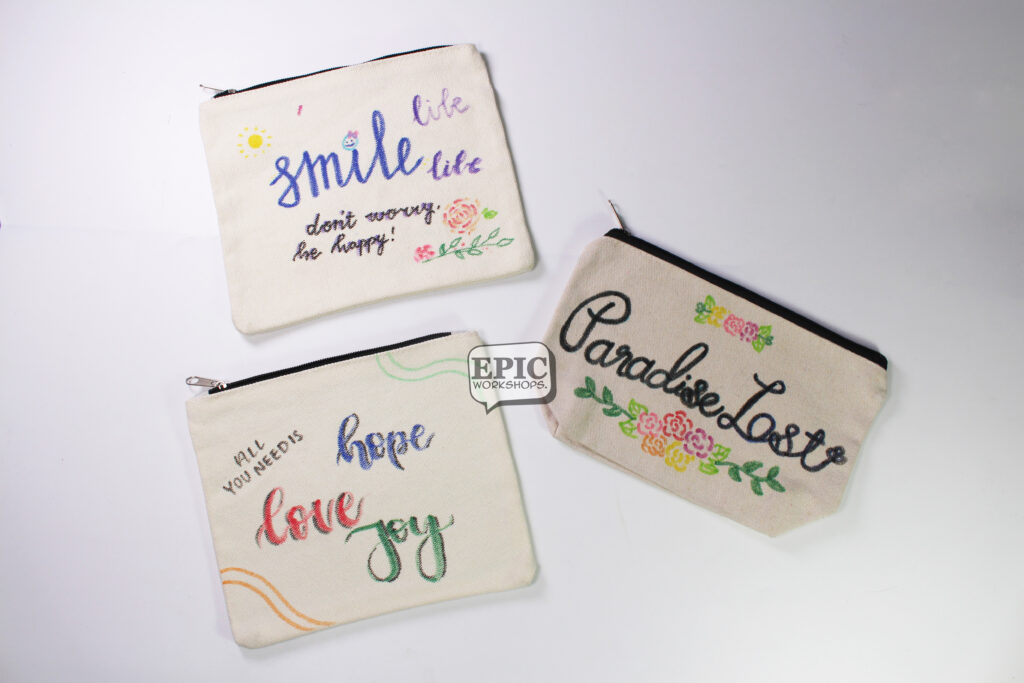 Calligraphy Pouch Workshop in Singapore - Powered by Crafts Lab
Calligraphy Pouch workshop offers an amazing opportunity for beginners or for those who have some calligraphy experience to improve their skills and to create a beautiful and useful creation. Here at CraftLabs, you will learn how to make beautiful strokes and letterforms that would grab your attention as your instructor from Epic Workshops leads you through a variety of calligraphy styles.

Calligraphy Pouch Workshop Details
Benefits of Calligraphy Pouch
Enhancing Creativity
You can add your distinctive writing style through the aesthetic expression of calligraphy.
Attending a workshop can introduce you to a variety of lettering styles, approaches, and tools, stimulating your imagination
and encouraging you to experiment with new designs, colours, and compositions.
Learn the Basics
Learn the basics of calligraphy, as well as the techniques needed to create your tote bag to your liking.
If you are not up for quotes, you can always create artistic patterns or just draw anything you have in mind, just adding your
very own personal touch to your pouch. Of course, no prior experiences are need to join this workshop.
Stress Relief
Doing calligraphy is meditative and fosters patience. It helps you calm your mind down like at a retreat
as you spend time writing each letter one at a time. In addition, wherever there is art, there will also be room for creativity.
Let your imagination take hold as you style your own pouch according to your personality or
even make it characteristic of yourself.
Unleash Your Creativity With Craft Labs Calligraphy Pouch Workshops In Singapore ― Customise Your Own Pouch Today!
Get a slot reserved for your team and family members by getting in touch with one of our representatives. We are offering:
Calligraphy Pouch workshops for beginners.
Calligraphy Pouch workshops for enthusiasts.
Team Building experiences through Calligraphy Pouch workshops
Private events, Birthday Parties and Hens Party
It just does not stop here ― our creativity and planning knows no boundaries!
We love bringing people together with the power of art, imagination, and creativity. Don't think too much. Book a slot today!
Calligraphy Pouch FAQ
Can the programme be customised to my needs?
Of course. Other than our standard sessions, we also offer services catered to our customer's needs to provide them with a more satisfactory experience.
What if I have no prior art experience?
In CraftLabs, we warmly welcome everyone who has an interest in art jamming, regardless whether they have artistic background or not. Moreover, our friendly facilitators will be present to guide and assist should you have any help with calligraphy.
Do I need to bring any materials for calligraphy pouch workshop?
No as all materials will be provided by
Epic Workshops
. If you like, you could also bring brainstormed ideas with you on how to decorate your pouch.
What can I expect from the workshop?
No as all materials will be provided. If you like, you could also bring brainstormed ideas with you on how to decorate your pouch.
Our professional trainers will start off the workshop with a presentation to equip participants with the basic modern calligraphy techniques. We will also teach participants on how to create their desired calligraphy letters using a brush pen. Fret not, we will customise our presentation according to the audience be it students or adults. Following which, we will begin with the hands-on session and each participant will get to bring home their own masterpiece.
Will the ink stay on my pouch permanently?
Yes, this is because we are using special fabric markers/ paint which will be waterproof and permanent once it dries. Therefore, our participants need not worry about the ink smudging.
Where will the calligraphy pouch workshop be held at?
If you have a desired venue in mind, we can arrange for the workshop to be held at your place. Alternatively, you can head down to our studio
Epic Workshops
(capacity: 50 pax) located near Marymount MRT station.
How can I make a reservation?
Please call us at 6355 0329 or email us at contact @craftlabs.sg for reservations of enquiries. Our friendly staff will be glad to assist you.
Request A Free Quote
Choose from a wide variety of Indoor Team Building Activities from 5 to 400 pax!
Review From Customers
Aiman
The trainer was very patient and helpful throughout the process, and she answered all of our questions along the way
Jul
I would highly recommend this workshop to anyone interested in learning the basics of calligraphy and creating beautiful, handmade pouches.
Angeline
The workshop was led by an experienced trainer who walked us through the basics of calligraphy and then showed us how to make our own pouch with the calligraphy techniques.
Stacy
The Calligraphy Pouch workshop was a good opportunity for me to learn how to do calligraphy
Hui Ming
I had a fun time learning the basics of calligraphy through this Calligraphy Pouch Workshop
Trusted by these esteemed clients: