Acrylic Pour Canvas Workshops in Singapore ― Fun Fluid Painting On Canvas
Crafts Lab ― Redefining the concept of fun acrylic pour workshops in Singapore.
Offering the best to corporations, academies, and worried parents … Making team bonding and family bonding fun, exciting, and colorful! Spreading the colors of joy in every activity whether it is a birthday party or a proper seminar ― we create excitement, we add value, and memories that can't be forgotten easily!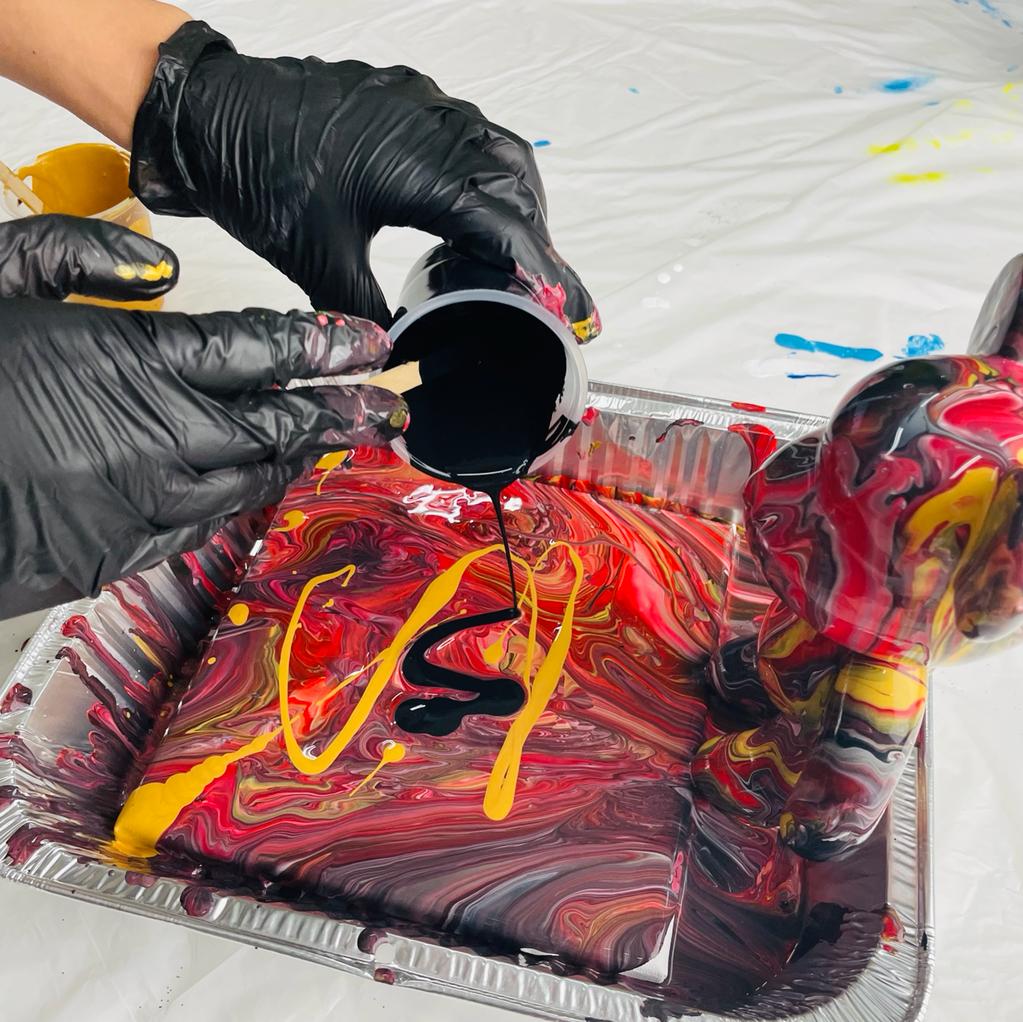 Acrylic Pour Canvas and Team Building Workshops in Singapore ― Powered by Crafts Lab
Duration: 1.5 Hours
Suitable Age: All age groups, kids are welcome. However, parental supervision for our younger participants aged 3-7 onwards.
Recommended Group Size: 5 Pax to Unlimited. However, if you have less than 5, we can still carry out the workshop with the rates set at 5 pax.
Convenient Studio Location: 5 Mins walk from Marymount MRT Station. The studio can hold up to 50 Pax.
Professional Trainers: Each trainer will be assigned to a few participants to ensure that full guidance is provided.
Affordable Rates Guarantee
Abstract art made fun and easy with Craft Labs Acrylic Pour On Canvas Workshop! As the name suggests, this latest trend allows you to try mixing different colours and experimenting with different acrylic pouring techniques helps you to explore your inner Picasso. Acrylic Pour on canvas is a form of abstract art, achieved through the art of fluid painting and letting your creativity flow, without the need for prior art knowledge and experience. All it takes is just your unique and interesting colour combinations, and you will be in for a treat! Be amazed and surprised with what you can come up with! Customizing your own bear has never been so simple with Craft Labs' Acrylic Pour Canvas Workshop.
Immersing yourself in this fun and exciting activity allows you to not only nurture your creative side, but also uncover your team members artistic skills. The experiences and collaborative efforts during Craft Labs' Acrylic Pour Canvas Workshop makes it a great option for team building as it allows you & your team members to bond over shared experiences. During the workshop, you will be guided by our friendly facilitators for a fun-filled and educational art experience. Be mesmerized as you create your own marbling patterns on the bear!
A fun & exciting experience awaits you at Craft Labs' studio. Let us help you create a fun and memorable team building event with Craft Labs' Acrylic Pour Canvas Workshop toady! Contact us for a free quote now!
Acrylic Pour Bear — What it is & its benefits
Acrylic Pouring involves the process of mixing an acrylic pouring solution to form a kind of paint mixture that is fluid. This mixture can be layered on, mixed, and poured using various ways and techniques to achieve various patterns and swirls on your preferred medium of bear or canvas. Our Acrylic Pour Canvas Workshops teaches you a special art form that allows you to experience creating abstract art without requiring any prior art experience or knowledge! This means that everyone, regardless of age and experience level can come together as one to enjoy Craft Labs' Acrylic Pour Bear Workshop since it's all inclusive! Experience a new art form and have it on your own bear for a unique, personalised, one-of-a-kind display that no one else would have. Enjoy a fun & therapeutic session away from work with this stress-relieving team building session here at Craft Labs.
Fun & Exciting Fluid Painting Session ― Experience a new art form with Craft Labs
Let loose, have fun & let your creativity and imagination flow with Craft Labs Acrylic Pour Canvas Workshop! All it takes are your paints, some pouring experimentations and a little imagination to create something that's so magnificent and amazing on your bear. This newest abstract art trend will definitely impress your friends and co-workers, so organize a fun & unique team building experience for them today!
Acrylic Pour Canvas Workshop in Singapore ― The Best Experience with Craft Labs
Our acrylic pouring mixture is non-toxic, and everything is mixed by you from start to finish! The mixture is also less-sticky as compared to store-bought acrylic pouring paints out in the market. Not only you will get to experience pouring the acrylic paint mixture on your canvas, you will also be able to make mix your own acrylic pouring mixture right here in our studio!
Corporates, Companies, Families, and Schools ― An Enjoyable & Fun Acrylic Pour Canvas Workshop Experience For All!
No matter what your interests are, or whatever your art experience is, all are welcomed to enjoy this fun & exciting acrylic pour canvas workshop!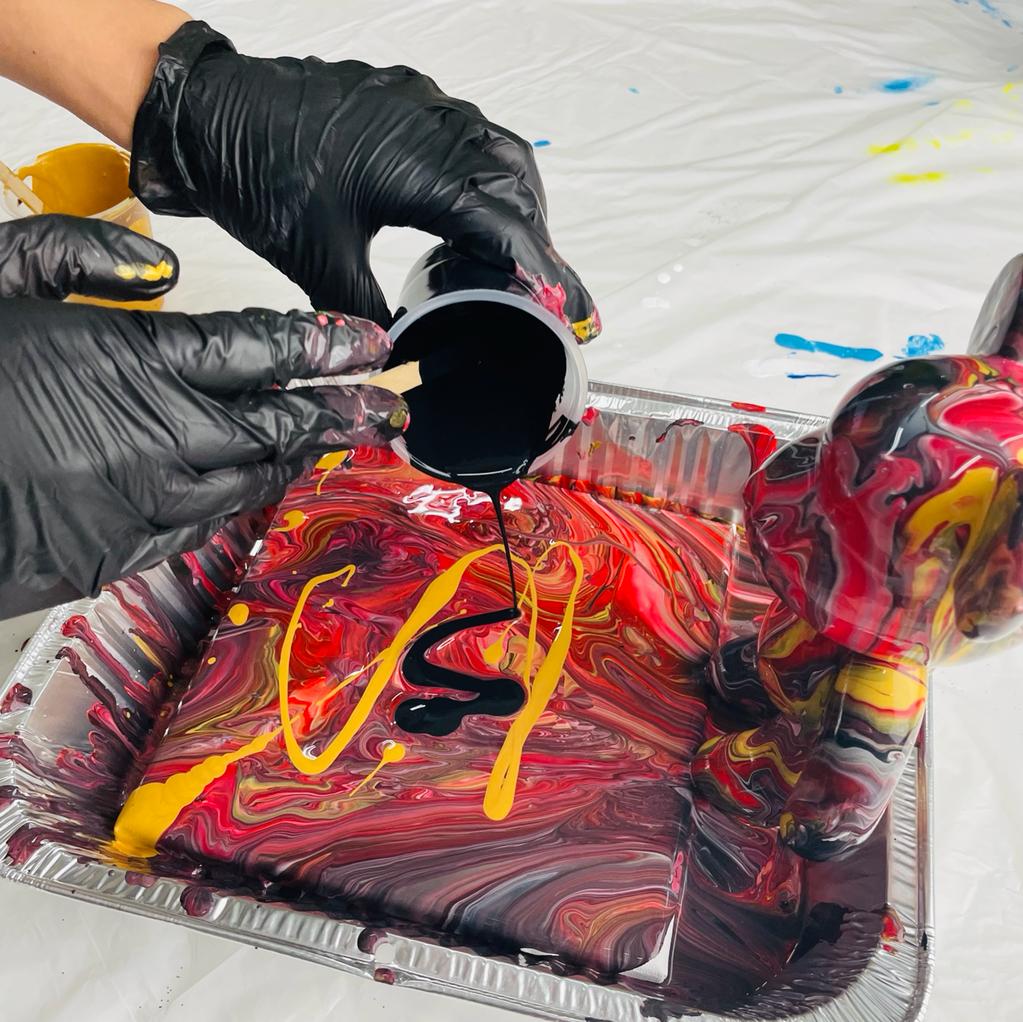 Why Should You Choose Us?
Connected with the best institutions of Singapore
Have served the greatest number of workplaces in Singapore
Meticulously planned activities to enhance workplace productivity and team motivation level
Known by all type of business scales
Worked with international corporations and clients in Singapore
Experience Acrylic Pouring Workshops With Craft Labs
Here at Craft Labs, we create fun & exciting activities to allow participants to experience crafting while having a good time. Our Acrylic Pour Canvas Workshop aims to bring a unique experience for participants to express themselves through the use of colours and various pouring techniques. During the workshop, we will introduce participants to the concept of acrylic pouring – how it works, the colour combinations you can choose as well as the wide variety of pouring styles you can try while decorating, and customising your bear.  




Unleash your creativity with Craft Labs Acrylic Pour Canvas Workshops in Singapore ― Personalise your own art canvas today!

Get a slot reserved for your team and family members by getting in touch with one of our representatives. We are offering:

Fluid painting acrylic canvas sessions for beginners.

Acrylic Pouring canvas workshops for enthusiasts.

Team Building experiences through Acrylic Pour canvas workshops

Private events, Birthday Parties and Hens Party

It just does not stop here ― our creativity and planning knows no boundaries! 

We love bringing people together with the power of art, imagination, and creativity. 

Don't think too much. Book a slot today!
Benefits of Art Jamming Workshops
Types of Acrylic Pour Workshops
We offer a wide variety of mediums to let your creativity flow during our Acrylic Pour Workshops! Choose between having your design on a medium or large sized resin bear figurine, a canvas, or a small bear keychain!
ACRYLIC POUR BEAR (23cm)
POPULAR CHOICE! A 23cm medium sized resin bear makes a great medium for your acrylic pouring session.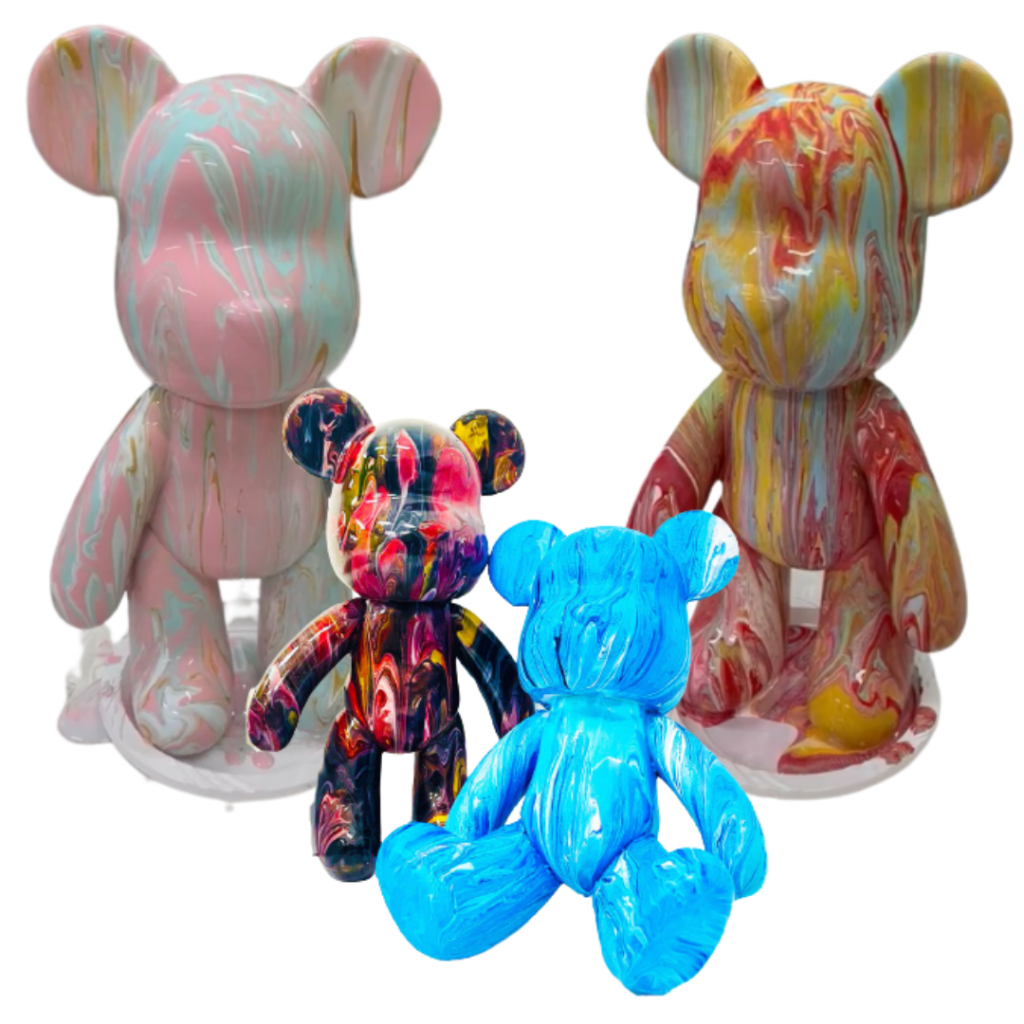 ACRYLIC POUR BEAR
A large resin bear figurine ( cm), maximum size for maximum fun!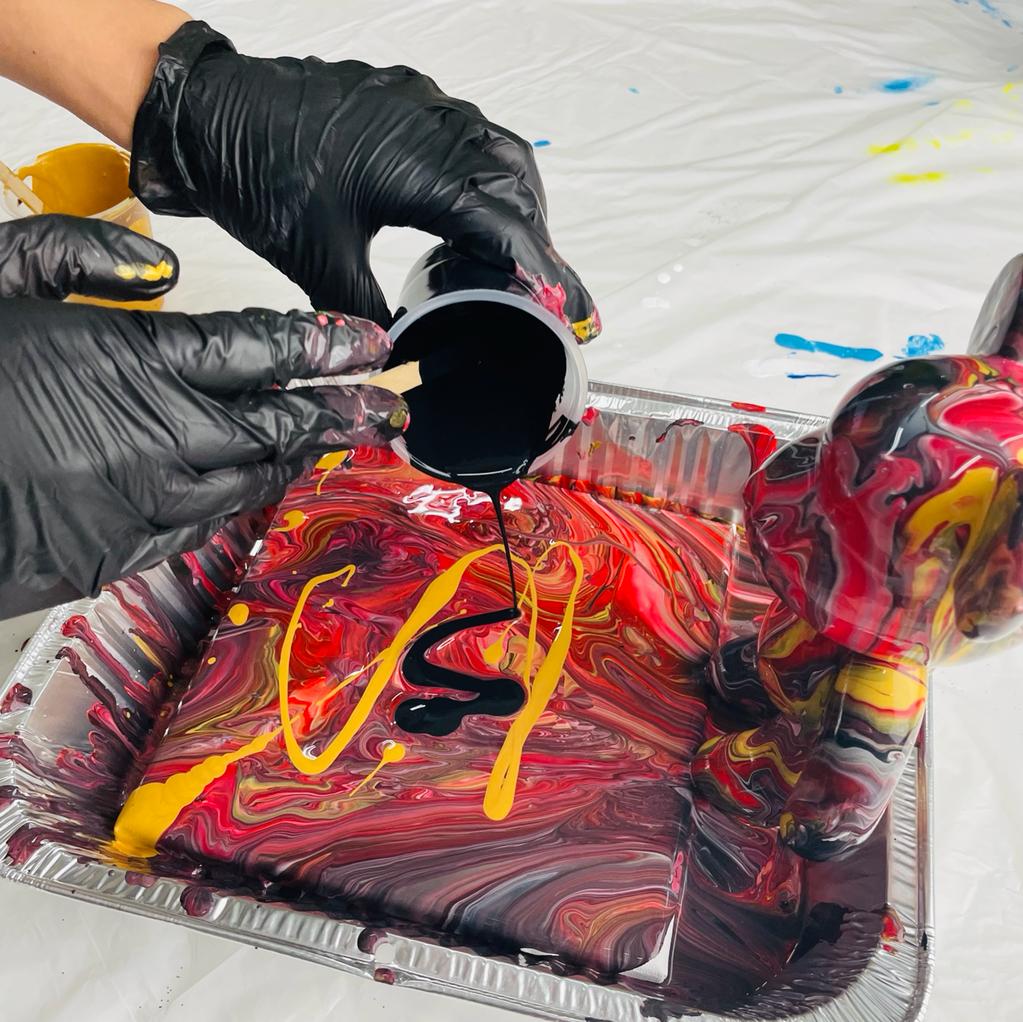 ACRYLIC POUR CANVAS
Display your art on an art canvas - a timeless classic.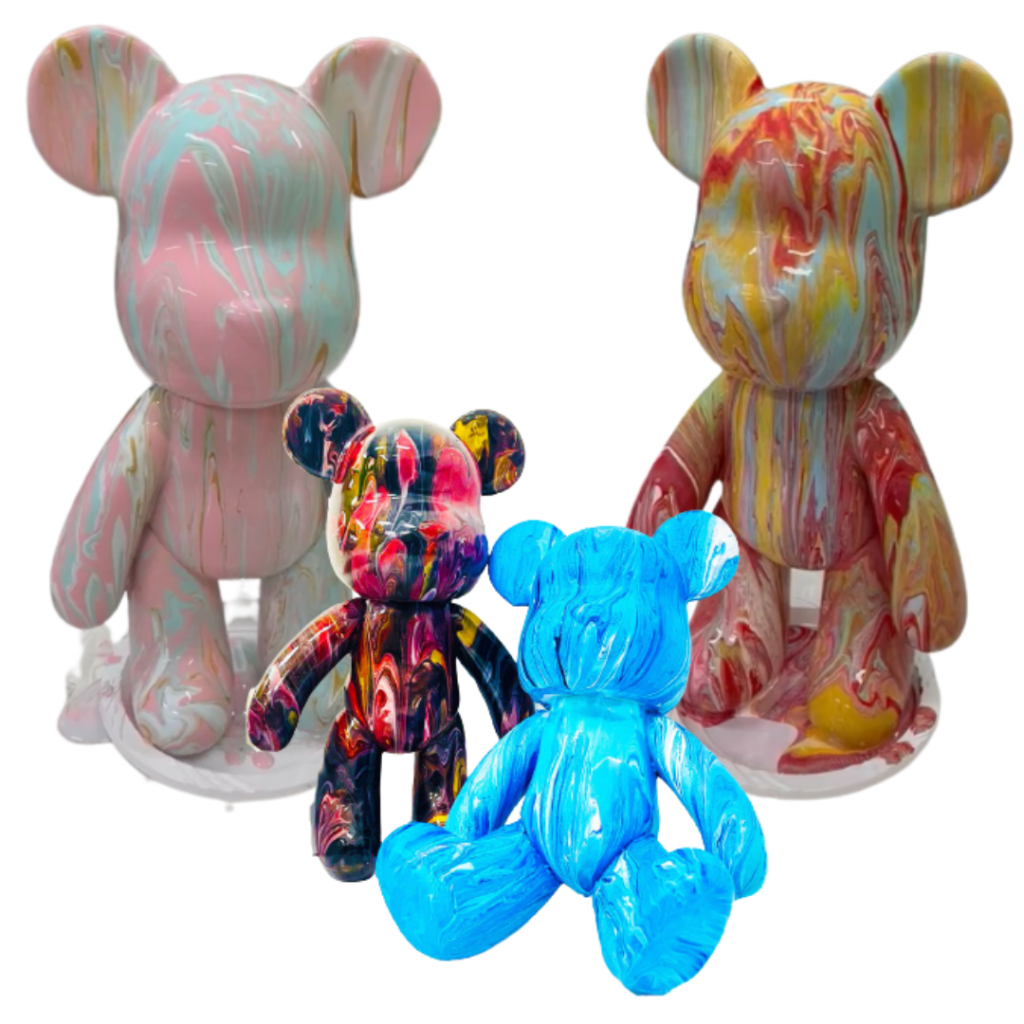 ACRYLIC POUR BEAR KEYCHAIN
Super cute acrylic pour bear with a keychain! With its small & compact size, flaunt your bear and take it with you everywhere!
ACRYLIC POUR ON CANVAS FAQ:
1. Can Craft Labs Acrylic Pour Canvas Sessions be customised to my needs?
Yes! Other than our standard sessions, we also offer services catered to our customer's needs to provide them with a more satisfactory experience. Do let us know your requirements before the workshop so we will be able to customise the best possible experience for you!
2. Do I need to bring my own materials?
No, all the materials such as paint brushes, paint, bear/canvas will be provided. However, please come dressed in attire you dont mind getting dirty in as due to the nature of this workshop experience, things may get a little messy!
3. What if I have no prior art experience?
We believe that everyone should have the right to create art, so we welcome people of all backgrounds and ages with or without art experience! If you are unsure on how to express your ideas on your bear or canvas, our friendly art facilitators will be there to guide you! Acrylic pouring does not require any prior art experience!
4. What can I expect from the workshop?
During the acrylic pour canvas, our professional trainers will start off the workshop with a presentation to equip participants with the basic colour theory and pouring techniques. We will teach participants on how to create their desired pouring effects on the bear or canvas, depending on the medium they choose. Fret not, we will customise our presentation according to the audience be it students or adults. Following which, we will begin with the hands-on session and each participant will get to bring home their own masterpiece. Do note that the bear or canvas requires some drying time!
5. Where will the location of the workshop be?
If you have a desired venue in mind, we can arrange for the workshop to be held at your place. Alternatively, you can head down to our workshop space (capacity: 50 pax) located near Marymount MRT station.
6. How can I make a reservation?
Please call us at 6355 0329 or email us at [email protected] for reservations or enquiries. Our friendly staff will be glad to assist you.
Request A Free Quote
Choose from a wide variety of Indoor Team Building Activities from 5 to 400 pax!
Review From Customers
Choon Siong Ng
2020-10-16
I attended a terrarium workshop organised by nus. Was held during covid so conducted over zoom but was still quite fun! The instructor was also very friendly and helpful in answering questions over zoom. Overall was quite an enjoyable experience!
I did the Terrarium Workshop as part of my university's welfare event. It is a nice break from the hectic university life 🙂
Dakshitaa Venkatesh Babu
2020-10-16
Very fun & chill terrarium making workshop to destress. Conductor Zee was so chill and funny that made all of us relax & enjoy
Zee was very funny and engaging. Had great fun.
Had a fun time at their terrarium making workshop!
Had a great Terrarium making workshop with Zee. (:
Had alot of fun at the zoom Terrarium Workshop organized by my university. End product exceeded my expectations and i enjoyed the process. Items were well packaged for delivery!
I did the Terrarium Workshop and Leather Crafting Workshop over zoom with them : ) the instructors were really patient and engaging
Trusted by these esteemed clients: