Art Jamming Workshops in Singapore ― It's Time to Show What You've Got!
Crafts Lab ― Redefining the concept of Art Jamming workshops and Fringe activities in Singapore.
Offering the best to corporations, academies, and worried parents … Making team bonding and family bonding fun, exciting, and colorful! Spreading the colors of joy in every activity whether it is a birthday party or a proper seminar ― we create excitement, we add value, and memories that can't be forgotten easily!
Art Jamming and Team Building Workshops in Singapore ― Powered by Crafts Lab
Duration: 1.5 Hours
Suitable Age: All age groups, kids are welcome. However, parental supervision for our younger participants aged 3-7 onwards.
Recommended Group Size: 5 Pax to Unlimited. However, if you have less than 5, we can still carry out the workshop with the rates set at 5 pax.
Convenient Studio Location: 5 Mins walk from Marymount MRT Station. The studio can hold up to 50 Pax.
Professional Trainers: Each trainer will be assigned to a few participants to ensure that full guidance is provided.
Affordable Rates Guarantee
Bridging the gaps between family members and corporate teams by adding a dash of excitement and coloring the activities with intensive fun ― we have some unique ways to bring everyone on the same page, leave conflicts behind, and enjoy the moment!
By painting on the same canvas and giving birth to a masterpiece with collaborative work and team efforts ― we help you create value that cannot be erased or easily forgotten.
We have special tools and activities to create a special bond between you and your team members, we help you build strong relationships with your family members, and we help you make teaching easy ― do this and much more with Crafts Lab Art Jamming sessions.
Invite all of your teammates to the making of a single artwork, integrate the value of arts and crafts in your organization — everyone will enjoy, everyone will grow, and everyone will learn from our activities…
Stop worrying about everything. Give us a call straight away …
This is your time to shine.
Now link, manage, and rebuild connections with your teammates with a vivid spectrum of arts and crafts activity.
It's fun-filled, it's exciting, and it's fantastic.
Contact us to begin the creative process of bringing your closed family members together in the team building activities in Singapore!
We take special care in the planning and strategies of our activities. We make everything special, unique, and productive — doesn't matter if it's a birthday party, a formal seminar, or a webinar.
We focus on creating value with hundred percent productive activities, intriguing games, and quality outcomes.
Now offering personalized sessions, games, and activities that help you build memories and experience that cannot be forgotten easily. We are the great players of value, desirability, efficiency, and quality.
Do you feel that your team members are stressed out? Are you having difficulty in making connections at home? Want to introduce a new concept in our classroom without puzzling the children?
So many troubles, only one solution ― Crafts Lab Art Jamming Sessions in Singapore!  
Understanding Art Jamming and Collaborative Art — The Art of Bringing Everyone Together
Just like music jamming sessions, Art Jamming is a kind of collaborative effort that can be cherished by so many people sitting together under a single roof, doing a single thing like painting a canvas.
Perceived as a great tool for relieving tensions, Art Jamming in Singapore is a therapy for the soul as well as the mind.
Whether you are stressed out by the mismanagement at work, or you have disagreements with your family members, nothing is better than getting it all out with the help of colors and creativity.
Apart from being a great tool for getting rid of mental stress, Art Jamming Workshops in Singapore bring everyone on the same page.
Resolve Internal Conflicts, Get to Conclusions ― Do it All With Crafts Lab
If you feel that you're not good at conflict resolution or your workplace has more than usual drama and disagreements ― then you're not alone!
Workplace disagreements are extremely common ― it is like a part of every social setting where two people exist, conflicts are bound to happen no matter how calm, quiet, and content people are around you. 
It is something that is not under your control ― but you can keep it all under control by getting in touch with Crafts Lab! 
First thing you need to do, find the base of the disagreement, get to its core, and call us to help you find an immediate solution…  
Don't ignore it for too long, don't leave it unresolved ― Pay attention to internal disagreements as it can negatively impact efficiency, productivity, and motivation levels of your team members. 
Same is the case with your family members… If you want to create a never lasting bond with the people you care about, don't keep it in, talk to them, then talk to us ― let's find a solution together! 
Art Jamming Sessions in Singapore ― Collaborate, Create, and Connect!
Are you passionate about what you do? Do you feel stagnant and the growth horizon seems to be fading? Give us a chance to help you break free from all the worries! 
Corporates, Companies, Families, and Schools ― We Don't Discriminate 
Want to make an impression on your boss or create a motivational environment for your teammates? Get in touch with Crafts Lab. We make building connections easy and seamless. 
Our engaging games and sessions assist you to build a positive atmosphere at work and home. We incorporate a welcoming platform where everyone is invited to give colors to their imagination… 
It doesn't stop here, the same platform for expression is given to every participant in the house. 
Why Should You Choose Us?
Connected with the best institutions of Singapore
Have served the greatest number of workplaces in Singapore
Meticulously planned activities to enhance workplace productivity and team motivation level
Known by all type of business scales
Worked with international corporations and clients in Singapore
How Does Art Jamming Sessions Help — Anticipation, Outcomes, & More
Beyond a reasonable platform to express yourself, Art Jamming is the best game that can build long lasting connections between all the people you care about emotionally or professionally… 

We understand that bringing a large group of people on the same page is something that requires patience, effort, and time… with Crafts Lab Art Jamming Activities, do it all, do it now. 

Our usual practice is that when we start a session, we focus on the crowd and help them understand everything to T. We begin with a small brief and introductory presentation where we tell how the session will be conducted. 

Afterwards, our professional facilitators help you take out your untapped imagination! 

Experience Excitement in

Art Jamming in Singapore

by Booking a Session at Crafts Lab Today!




Art Jamming in Team Building & Family Bonding ― Create Together, Grow Together 

Exceptional thrill, unmatchable excitement, and limitless creativity ― Crafts Lab helps you achieve the best level of your imagination with colors, canvases, paint brushes, and much more.  

Get a slot reserved for your team and family members by getting in touch with one of our representatives. We are offering:

Artworks produced by the involvement of two and more than two people 

Art Jamming sessions where you and your people can stimulate imagination

Gathering different pieces of paintings and forming a single one  

It just does not stop here ― our creativity and planning knows no boundaries! 

We love bringing people together with the power of art, imagination, and creativity. 

Don't think too much. Book a slot today!
Benefits of Art Jamming Workshops
Types of Art Jamming Workshops
Here at CraftLabs, we have many choices on how you wish for your art jamming workshop to be conducted, whichever is comfortable with you. We offer painting a single large canvas together or piecing individual artworks into a giant masterpiece or any customised needs. As each individual has a different artistic style and approach to painting, the team members will be able to understand and relate to each other better through expressing art.
ART JAMMING (INDIVIDUAL CANVAS)
Everyone paints on their own canvas.
Take a break from your daily grind and unleash your creativity with our Art Jamming workshop! Our private Art Jamming workshops allow your team to reignite their creativity, de-stress and explore their creative and fun side.
ART JAMMING (COMBINED GROUP ART)
A group of 6 to 8 paint their own individual image, then combine together to form a big image.
A popular team building choice amongst our corporate clients! The combined group art helps to foster teamwork amongst participants as they have a part to play to contribute to the big picture.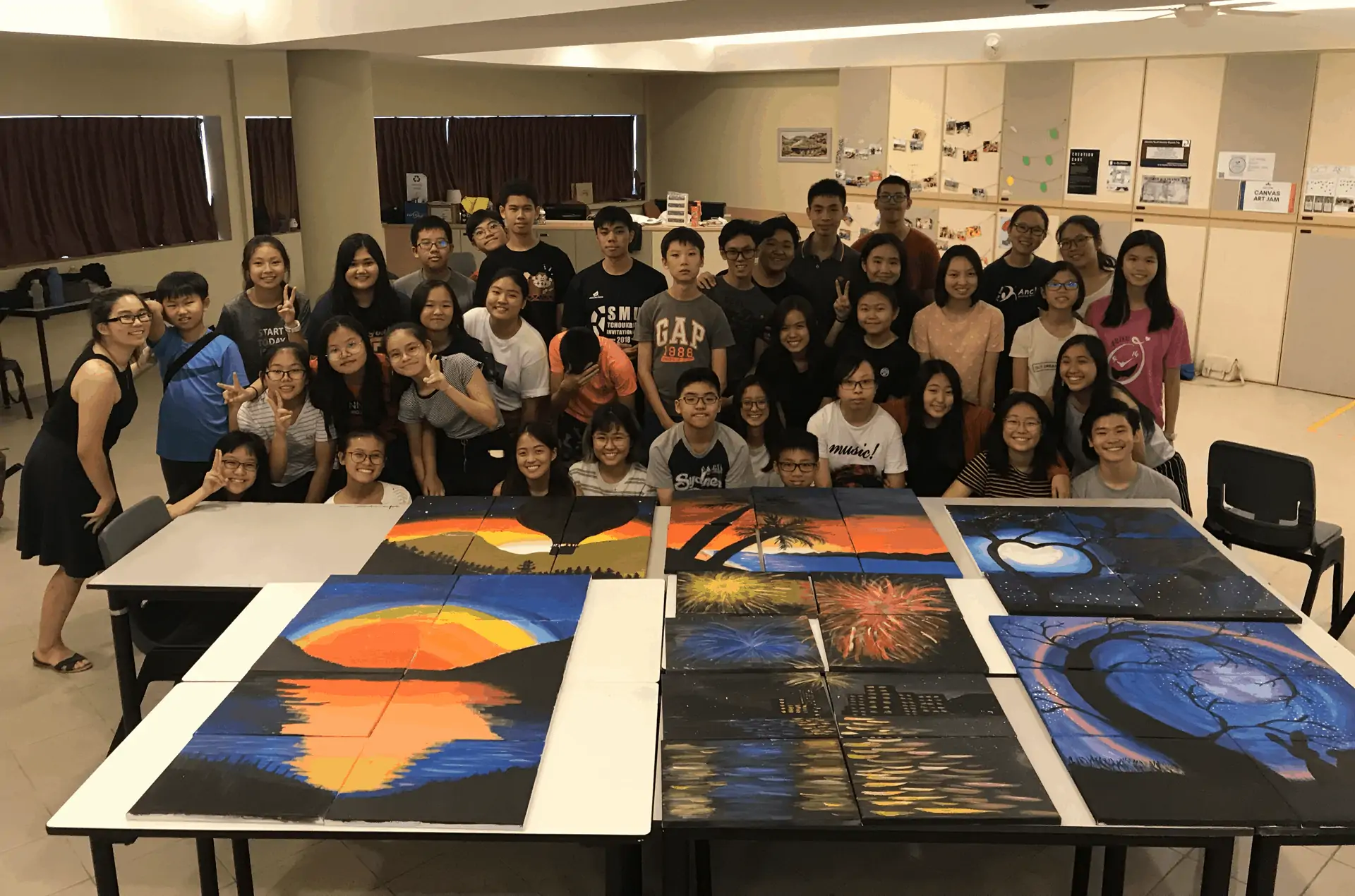 ART JAMMING (GROUP CANVAS)
Group of 5 paint on a big canvas
Ever wondered how your team dynamics are like when it comes to painting? Watch up-close through our art jamming group canvas workshop as partipants will be painting on a big canvas together with their group mates -- The perfect time to spot the hidden picasso within the group!
LED LIGHTED CANVAS ART WORKSHOP
This lighted canvas workshop will allow you to enhance your artwork with the installation of LED lights! This brings an extra sparkle to your art piece.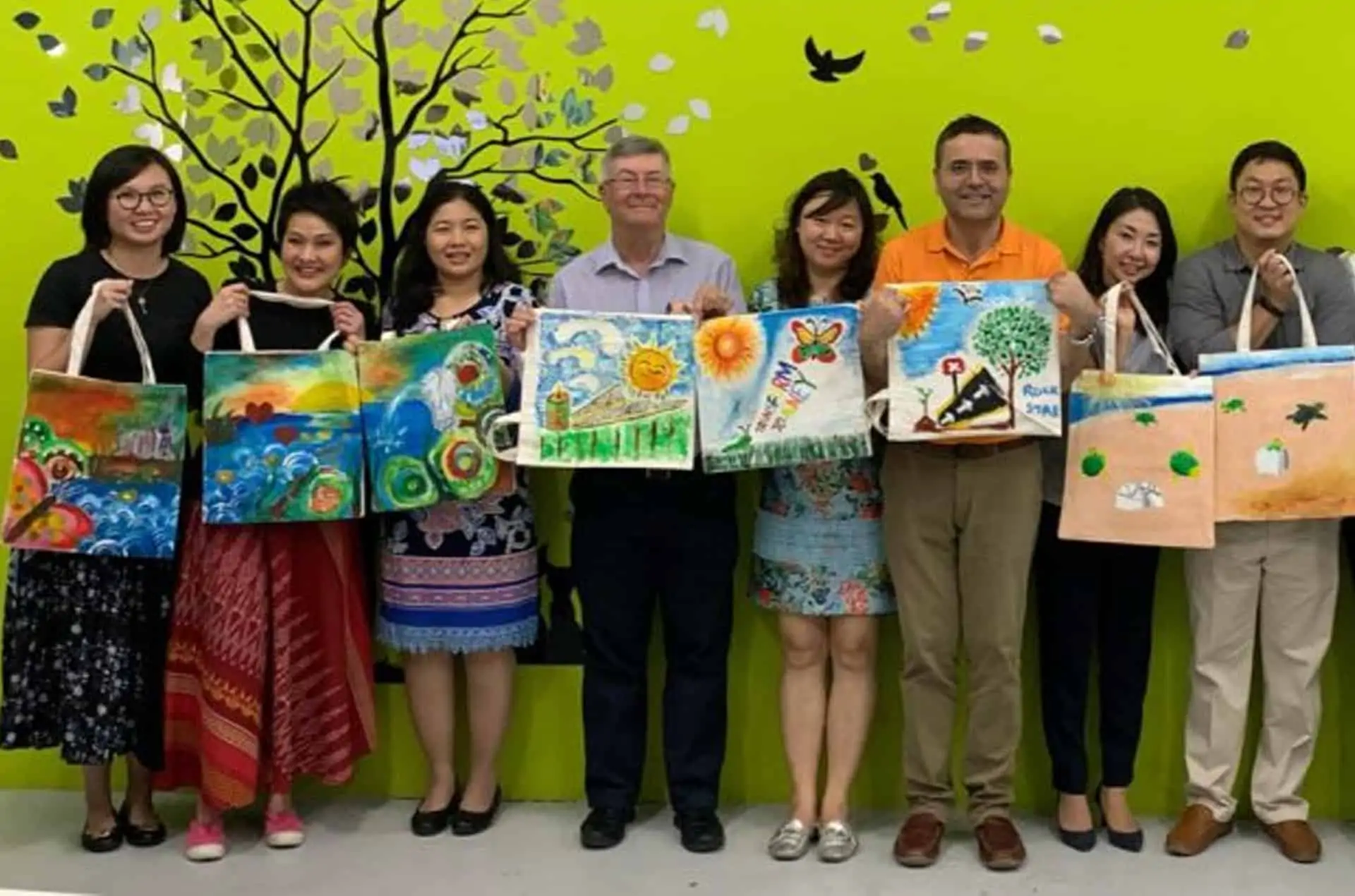 TOTE BAG PAINTING WORKSHOP
Art Jamming typically refers to painting on canvases but at Craft Labs, we offer "Art Jamming With A Twist", where participants can also paint on t-shirts and tote bags!
ART JAMMING FAQ:
1. Can Craft Labs Art Jamming Sessions be customised to my needs?
Yes! Other than our standard sessions, we also offer services catered to our customer's needs to provide them with a more satisfactory experience.
2. Do I need to bring my own materials?
No, all the materials such as paint brushes, paint, canvas and aprons will be provided. The only thing you need to bring will be yourself!
3. What if I have no prior art experience?
We believe that everyone should have the right to create art, so we welcome people of all backgrounds and ages with or without art experience! If you are unsure on how to express your ideas on canvas, our friendly art facilitators will be there to guide you!
4. What can I expect from the workshop?
Our professional trainers will start off the workshop with a presentation to equip participants with the basic painting techniques. We will teach participants on how to create their desired effects on canvas. Fret not, we will customise our presentation according to the audience be it students or adults. Following which, we will begin with the hands-on session and each participant will get to bring home their own masterpiece.
5. Where will the location of the workshop be?
If you have a desired venue in mind, we can arrange for the workshop to be held at your place. Alternatively, you can head down to our workshop space (capacity: 50 pax) located near Marymount MRT station.
6. How can I make a reservation?
Please call us at 6355 0329 or email us at contact@craftlabs.sg for reservations or enquiries. Our friendly staff will be glad to assist you.
Request A Free Quote
Choose from a wide variety of Indoor Team Building Activities from 5 to 400 pax!
Review From Customers
Choon Siong Ng
2020-10-16
I attended a terrarium workshop organised by nus. Was held during covid so conducted over zoom but was still quite fun! The instructor was also very friendly and helpful in answering questions over zoom. Overall was quite an enjoyable experience!
I did the Terrarium Workshop as part of my university's welfare event. It is a nice break from the hectic university life 🙂
Dakshitaa Venkatesh Babu
2020-10-16
Very fun & chill
terrarium making workshop
to destress. Conductor Zee was so chill and funny that made all of us relax & enjoy
Zee was very funny and engaging. Had great fun.
Had a fun time at their terrarium making workshop!
Had a great Terrarium making workshop with Zee. (:
Had alot of fun at the zoom Terrarium Workshop organized by my university. End product exceeded my expectations and i enjoyed the process. Items were well packaged for delivery!
I did the Terrarium Workshop and
Leather Crafting Workshop
over zoom with them : ) the instructors were really patient and engaging
Trusted by these esteemed clients: