Shrink Art in Singapore
Make your own charm keychain from start to finish! Everything from scratch, designed and specially handcrafted by you, for you!
Our unique shrink art allows you to customize and design your personal masterpiece either as an accessory or decoration. With our workshop, you can handcraft everything just by letting your creativity flow. Moreover, we provide many different choices of shapes for you to shrink. This way, you can personalize your craft in any way.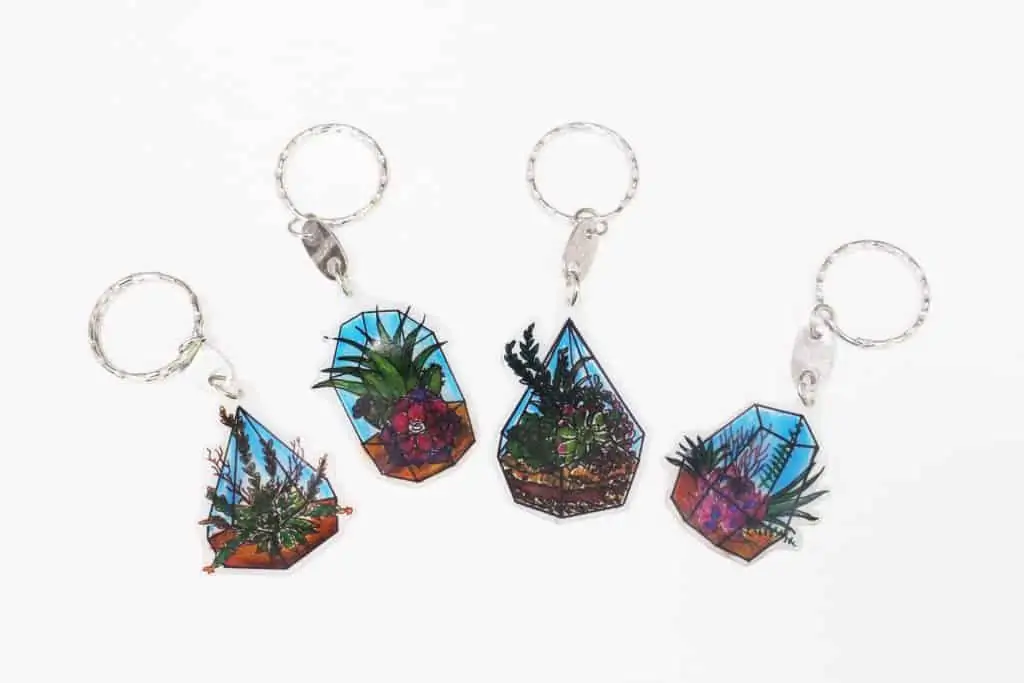 Shrink Art Workshops in Singapore
Duration: 1-1.5 Hours
Age Group: Suitable for all age
Recommended Group Size: 5 Pax to Unlimited. However, if you have less than 5, we can still carry out the workshop with the rates set at 5 pax.
Convenient Studio Location: 5 Mins walk from Marymount MRT Station. The studio can hold up to 50 Pax.
Professional Trainers: Each trainer will be assigned to a few participants to ensure that full guidance is provided. Our trained facilitators will teach you the basics of drawing and colouring. After which, you will get to draw your own designs and colour it to you personal liking. With that, you will then get to see your art piece shrink into smaller size as it goes through a heating process. This finished product can be used as an accessory or decorative.
Affordable Rates Guarantee
Benefits of Shrink Art Workshops
Shrink Art FAQ
1.

What can I expect during the workshop?
We will begin by learning basic skills of drawing, colouring and some technical skills guided by our trainers. Then, you will get to draw and colour your art pieces using our special equipment. Following which, you get to watch your art piece shrink into smaller sizes and be amazed by the transformation! The finished product can be used as an accessory or decoration for your living space.
2.

Where is the workshop held?
The Shrink Art workshop is held at our workspace area located at near Marymount MRT.
If you have another desired venue in mind, please feel free to contact us and we can arrange for transportation.
3.

What is the minimum number of participants?
The minimum number is 5 pax. However, if your group is less than 5, we can still conduct the workshop but the charges will be in accordance to the minimum number.
4.

Is the workshop suitable for everyone?
Yes, this workshop is suitable for people of all ages. Both young and old can get creative with our Shrink Art workshop and bring home their masterpiece at the end of the day!
5.

What do I have to bring along?
We will provide all equipment. Just bring along some ideas and unleash your creativity!
6. How can I make a reservation?
Please contact us at 6355 0329 or contact@craftlabs.sg for reservations and enquiries.
Request A Free Quote
Choose from a wide variety of Indoor Team Building Activities from 5 to 400 pax!
Review From Customers
Choon Siong Ng
2020-10-16
I attended a terrarium workshop organised by nus. Was held during covid so conducted over zoom but was still quite fun! The instructor was also very friendly and helpful in answering questions over zoom. Overall was quite an enjoyable experience!
I did the Terrarium Workshop as part of my university's welfare event. It is a nice break from the hectic university life 🙂
Dakshitaa Venkatesh Babu
2020-10-16
Very fun & chill
terrarium making workshop
to destress. Conductor Zee was so chill and funny that made all of us relax & enjoy
Zee was very funny and engaging. Had great fun.
Had a fun time at their terrarium making workshop!
Had a great Terrarium making workshop with Zee. (:
Had alot of fun at the zoom Terrarium Workshop organized by my university. End product exceeded my expectations and i enjoyed the process. Items were well packaged for delivery!
I did the Terrarium Workshop and
Leather Crafting Workshop
over zoom with them : ) the instructors were really patient and engaging
Trusted by these esteemed clients: