Alcohol Ink Painting Workshop
Our alcohol inking workshops are designed to ignite your creativity and introduce you to the mesmerising art form of alcohol inks. Whether you are a complete beginner or have some experience with art, our workshops offer a fantastic opportunity to explore this unique medium. Take your pick from our selection of artistic and functional non-porous surfaces like ceramic, acrylic, or glass. With vibrant and bold pigments at your disposal, you'll be introduced to the concept of flow art and learn application techniques to effortlessly produce awe-inspiring visual effects. Unleash your creativity and experience the liberating joy of this immersive workshop.
Alcohol Ink Painting Workshop in Singapore ― Powered by Crafts Lab
Experience the exhilarating world of Alcohol Ink Painting in our captivating 1.5-hour workshop! During our workshops, you will be guided by our experienced instructors who will take you on a creative journey. They will introduce you to the techniques and tools of alcohol inking, sharing their expertise and insights to help you create stunning and vibrant artworks. Discover the fascinating properties of alcohol inks as you experiment with colours, lines, and textures. Choose from a diverse selection of artistic and functional non-porous surfaces, including ceramic, acrylic, or glass. Experience the liberating nature of this medium, allowing for spontaneous expression and the freedom to let your creativity flow.
Alcohol Ink Painting Details
Benefits of Alcohol Ink Painting
Relaxation and Stress Relief
Alcohol inking workshops offer a therapeutic and calming experience.
The process of working with alcohol inks can be meditative, helping to relieve stress and promote relaxation.
As you immerse yourself in the fluidity of the inks and the creative process, you can find a sense of calm and rejuvenation,
allowing your worries to fade away.
Expressing Emotions
Art provides a valuable opportunity for self-expression, offering a safe and healthy outlet for emotions
instead of keeping them bottled up. Through the process of creating art, alcohol inks specifically allow for the liberation
from perfectionism, enabling the exploration of various colours, lines, shapes, and unique textures.
Unlike other water-based inks that are typically applied simultaneously, alcohol inks, being highly pigmented and
alcohol-based, can be gradually incorporated into the artwork. Additionally, alcohol inks have a rapid evaporation rate,
resulting in quick drying of undiluted pigments within minutes. Symbolically, these inks teach us to embrace the flow of life
and relinquish the need for predictability and control. By shifting towards a mindset of acceptance,
we can free up mental space, enhance our mental and emotional
well-being, and develop a stronger sense of resilience and mental fitness.
Exploration and Learning
Attending an alcohol inking workshop provides an opportunity for learning and skill development.
Experienced instructors will guide you through various techniques, sharing their knowledge and expertise.
You can learn about colour mixing, blending, layering, and creating unique effects with alcohol inks.
The workshop environment encourages exploration and experimentation, helping you expand your artistic horizons
and develop new skills.
Why Should You Choose Us?
Connected with the best institutions of Singapore
Have served the greatest number of workplaces in Singapore
Meticulously planned activities to enhance workplace productivity and team motivation level
Known by all type of business scales
Worked with international corporations and clients in Singapore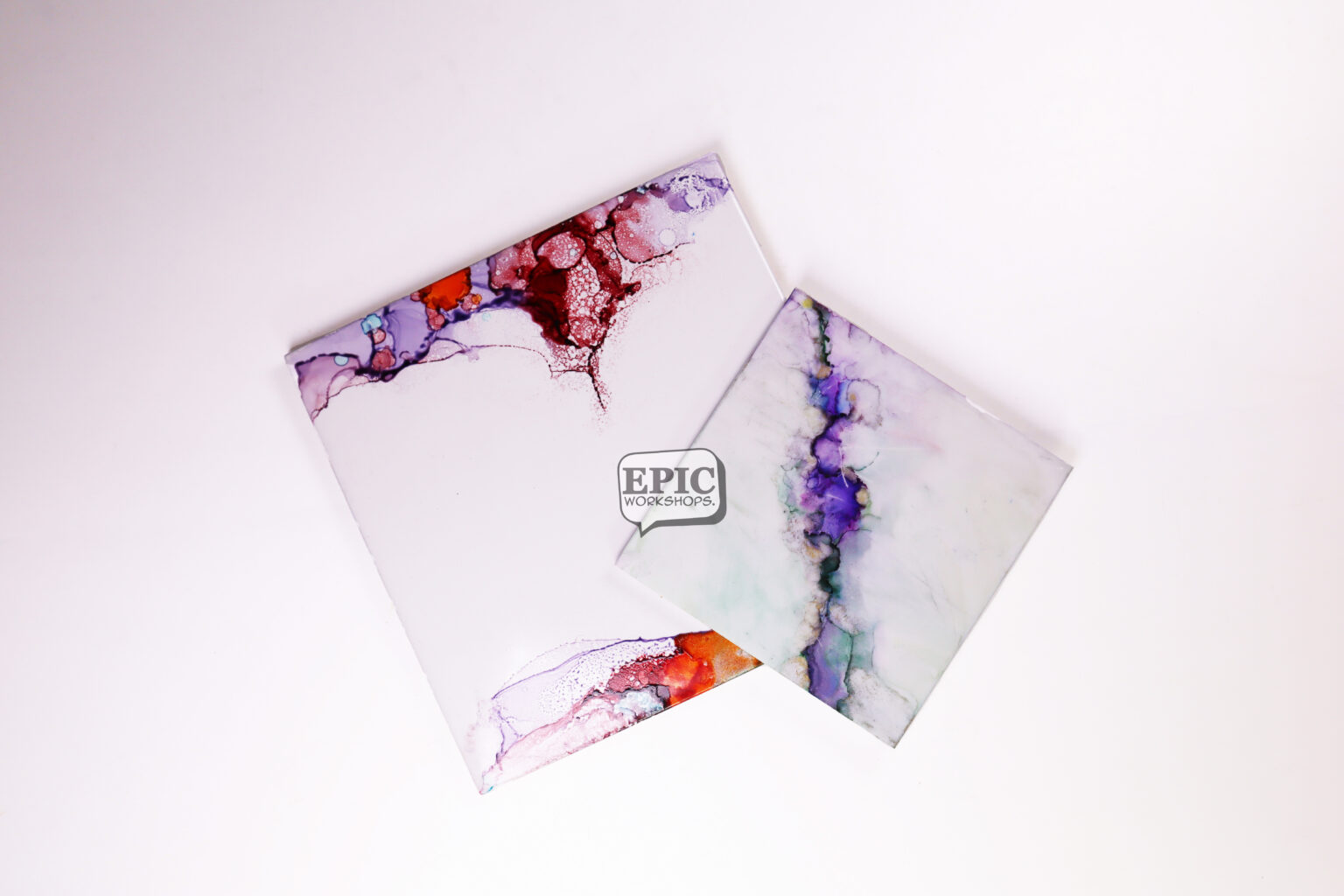 Experience Alcohol Ink Painting Workshop With Craft Labs
At Craft Labs, we provide a supportive and inclusive environment, where you can learn at your own pace and unleash your artistic potential. This workshop is designed to help you explore the captivating world of alcohol ink painting, a dynamic medium known for its bold colours, fluidity, and stunning effects. Whether you prefer abstract designs or representational pieces, alcohol inks offer endless possibilities for you to explore and create unique artworks that reflect your personal style.
Unleash your creativity with Craft Labs Alcohol Ink Painting Workshop in Singapore ― Let the colours come alive on your canvas!
Get a slot reserved for your team and family members by getting in touch with one of our representatives. We are offering:
Beginner-friendly Alcohol Ink Workshop
Alcohol Ink Painting workshops for enthusiasts.
Team Building experiences through Alcohol Ink Painting workshops
Private events, Birthday Parties and Hens Party
It just does not stop here ― our creativity and planning knows no boundaries!
We love bringing people together with the power of art, imagination, and creativity. Don't think too much. Book a slot today!
Alcohol Ink Painting Workshop FAQ
What are Alcohol Inks ?
Alcohol inks have gained global popularity as an exhilarating artistic medium. They are vibrant and highly pigmented dyes, dissolved in solvents, that possess a liquid consistency, allowing for smooth flow and rapid drying. The key components of alcohol inks are alcohol, which facilitates fluidity, and dye, which imparts color and remains on the surface after the alcohol evaporates.
Are the alcohol inks used in the workshop safe and non-toxic?
It is crucial to prioritise safety and follow proper procedures when working with alcohol inks and other related materials during this class. Alcohol pigments used in this medium are flammable and can emit toxic fumes. If you plan to use alcohol inks on a regular basis, it is important to adhere to the recommended safety guidelines and consider investing in protective wear to ensure your well-being.
Is the workshop suitable for children or beginners?
Considering the characteristics of the inks used, this workshop is specifically designed for adults and corporate events. However, please note that it is not suitable for pregnant women and children under the age of 18.
Will there be any protective gear provided during the workshop?
We offer nitrile gloves to participants and strongly recommend wearing face masks for protection against fumes. It is essential to prioritise your well-being by familiarising yourself with safety procedures and personal protective equipment before the class. Please bring and wear suitable personal protective gear as needed. Exercise caution, care, and sound judgment when following the class procedures. Take into account your own skill level and sensitivity, and adhere to the safety precautions related to the tools and materials demonstrated. EPIC Workshops cannot be held liable for any property damage or injuries resulting from the misuse of the provided information.
Do I get to bring home my alcohol ink artworks on the day itself?
Depending on the level of dryness of your alcohol ink artwork, we may recommend leaving it at our premises for a day or two, as it typically takes at least 24 hours for the inks to completely dry. Once the artworks are fully dried, they will be more suitable for handling and transportation. In such cases, you can make arrangements for self-collection on a later day.
Are alcohol inks considered safe for use with food?
Find out what you want to paint on your shoes by doing a little research first. You can look online for inspiration or create your own original design. You can paint a picture of your pet or a special area that means something to you, or you can duplicate a pattern you have done on other pieces of clothing.
Can I seal or protect alcohol ink paintings?
Yes, It is advisable to apply a sealant to your completed artworks once they have fully dried, ideally after a complete drying period of 24 hours. This is because exposure to ultraviolet light can cause fading over time in alcohol inks, as they are sensitive to light. To avoid the risk of reactivating the alcohol inks and potentially damaging your artwork, it is recommended to use a varnish or fixative that is water or oil-based instead of alcohol-based.
Is there a limit on how many people can attend the workshop?
No, alcohol inks are not considered safe for use with food. Alcohol inks are primarily used for artistic purposes and are not intended to come into direct contact with food or beverages. They contain solvents and dyes that are not approved for consumption. Therefore, it is important to avoid using alcohol inks on items that will come into contact with food or drinks.
Will there be any tools or materials provided during the session?
We will be providing you the following items for alcohol ink painting:
An appropriate surface or item to apply the inks on
Nitrile gloves without powder to protect your hands and skin.
Dry and wet colorants and pigments, along with a blending solution.
Various tools necessary for the creation process.
How can I make a reservation?
Please call us at 6355 0329 or email us at contact@craftlabs.sg for reservations or enquiries. Our friendly staff will be glad to assist you.
Request A Free Quote
Choose from a wide variety of Indoor Team Building Activities from 5 to 400 pax!
Review From Customers
Chua Lim
I tried the alcohol ink painting on ceramic tiles with my team and it was so cool.
Felicia yeo
10/10 experience! This workshop was so fun and learned some new painting techniques from Danielle.
Rosnah 
My colleagues and I had a wonderful time at the alcohol ink painting workshop yesterday. Would definitely come back to try out the other workshops!
Duane 
The workshop was extremely well organised and Danielle was knowledgeable and patient. She guided us through the basics before letting us create our own unique designs.
Thalia 
Danielle taught me several new methods, and I am so grateful for the opportunity to experiment with a new medium.
Ruben
Attended the alcohol ink painting workshop with my friends today and I had so much fun much fun painting with them.
Trusted by these esteemed clients: