Leather Crafting Workshop in Singapore
CraftLab's Non-Stitched Leather Crafting Workshop teaches leather crafting skills and techniques. Learn the fundamentals of leather crafting and a technique known as fastening to combine pieces of leather together. We boast a myriad of leather items - from key fobs to namecard holders, one of which is destined to have your mind set on. Furnishing the element of team-building, our leather crafting workshop prides itself in being the go-to workshop for team-building. Our fully experienced leather artisans elevates the leather crafting experience through injections of team building.
Leather Crafting Workshops in Singapore
Duration: 1.5 Hours
Suitable Age: All age groups, kids are welcome. However, parental supervision for our younger participants aged 3-7 onwards.
Recommended Group Size: 5 Pax to Unlimited. However, if you have less than 5, we can still carry out the workshop with the rates set at 5 pax.
Convenient Studio Location: 5 Mins walk from Marymount MRT Station. The studio can hold up to 50 Pax.
Professional Trainers: Each trainer will be assigned to a few participants to ensure that full guidance is provided.
Affordable Rates Guarantee
Welcome to Singapore's Best Place For Leather Crafts Manufacturing Programs Handbags, Coinholders, Sacks― Craft Labs Does It All!
Leather Manufacturing is a substantial scheme to build something and share the thrill of creating something within your comfort zone and the people you love. 
When you take this session as a team building or family bonding activity with the people you care about emotionally or professionally, you are giving birth to the idea of togetherness. 
This program is also great for individuals who want to create something in a thriving and long lasting method.
Repair, Relearn, Reuse — Leather Craftsmanship Skills Are Forever
As you might know, leather can be repaired and upgraded easily. So, learning this skill can be a massive game changer for you and your team.  
Not only will you be bonding in a positive environment, but you will also be learning something that cannot be taken away from you.  
Want to bring instant happiness into someone's face? Or you want to experience the moment of joy with your loved ones?
Book a slot with us NOW! Make something for your loved ones with your own hands and give them a handmade cardholder, purse, or wallet ― watch the instant glow on their face. Make them feel wanted, cared, and important. 
Looking for Some Enjoyable, Lively, and Fast Ways to Bring Your Team Members or Family Members on the Same Page? Contact Craft Labs Today! 
Leather Manufacturing  Programs
in Singapore ― Endless Joy, Endless Excitement 
Leather Crafting Programs as Team Bonding Activities in Singapore 
Learn, Expand, Create, and Connect ― Do it All With Leather Crafting Programs! 
These lessons are specifically designed for people who are interested in learning something out of the box.  
There are a thousand ways to express yourself when it comes to something crafty and artsy — we believe that this activity can make you a whole new human being with a unique set of skills. 
We focus on teaching the core and basics of this skill and make it easier for attendees to have a hold on what we do and how we do it. 
Bringing the different parts of a leather might not be easy, but we focus on teaching it in the easiest way possible. 
We have a plethora of options that you can make from this material and give it to the people you cherish, or just keep it in your collection. 
Leather Manufacturing Lessons ― The Art of Modern Era 
Why Choose Leather Manufacturing  Lessons? 
Leather Manufacturing  Lessons for Cooperation 
A great lesson to learn a new skill and unite with the people you care about. Enhance the cooperation between you and other individuals.
Leather Manufacturing  Programs for the Sake of Learning a New Skill 
Get familiar with a skill and open your startups. Earn on the side! 
Leather Manufacturing  Lessons for Startups 
Give your crafts a personal touch, make a distinctive product with your own hands, use the desired label, tag the product with desired sayings ― do much more! 
BENEFITS OF LEATHER WORKSHOPS
Types of Leather Crafting Workshops
Whether it is for a corporate team building activity, a birthday party or fringe activities, be prepared for a fun-filled time of creating a masterpiece and bringing it home.
Non-Stitched Leather Making Workshops
Everyone paints on their own canvas.
Want to craft your own leather coin purse or cardholder? At Craft Labs' Non-Stitched Leather Making workshop, you can create your own masterpiece. This class is beginner-friendly, no background in sewing is required! We all have our own stories, we all create our own stories ― Leather craft is just like telling stories. Planning to create your personal leather handbag, wallet, or purse? Not sure how to begin? Get in touch with us and book a slot for Non-stitched Leather Crafting Programs by Craft Labs…
We believe that everyone has the power to create their personal masterpiece that holds sentimental value to them. The session on Non-stitched leather Manufacturing Programs will tell you how important it is to be able to express yourself through some kind of art. We teach you how to be limitless in your work ― with no additional sewing and hassle!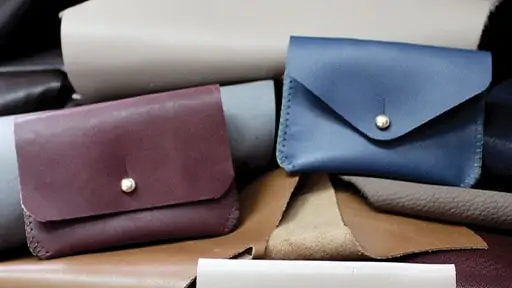 Stitched Leather Making Workshops
Love to sew? Fearless when it comes to holding a needle and thread? Here's a way you can show off your sewing skills.
Join us for our stitched leather making workshop and make stitched leather pencil cases & name card holders.
Do you have a passion to sew something? Want to take your sewing skills to another level? Well, there are a thousand ways you can excel in this art, but nothing as compared to Leather Craftsmanship.
Be a part of our excellent leather Manufacturing Programs where we create something amusing and exciting with the help of sewing machines. Let's create something together ― from leather pencil cases to leather bags ― we do it all.
Leather Craft Workshops FAQ
1. What type of leather do you use?
We use cow-hide leather
2. Can i choose the colour of my leather piece?
Of course – we have a variety of colours available.
3. How to take care of my leather product?
Use leather wipes to wipe off dust occasionally. For aesthetic purposes, use leather polish for an added extra shine to your leather products. Dry your products, especially after using leather wipes to prevent moulding.
4. What is the best way to keep my leather craft safe?
Leather-made things are sensitive and require extreme care from your side.
Keeping it safe can be a hassle as you need to clear off the particles every once in a while. If you want extra shine on your thing, it is best to use shining products or leather polish. Not only do they make your purse, bag, cardholder, or any product you have made new, but they also keep them from drying out.
Store your crafts in a cool and dry place. Don't fold or compress them.
5. Where to see the charges of these workshops?
Personalized rates for this workshop can be fetched from our representatives. Just give us a call or leave us an email on our address.
Email address: contact@craftlabs.sg
6. Where are you located?
Here is our workplace location if you want to physically drop by our office:
37 Jalan Pemimpin, MAPEX Building, #03-10 Singapore 577177
7. How do i call you?
This is our number: +65 6355 0329
8. How many individuals do you need for leather crafting programs?
We need at least five people to start the lesson. The upper limit can go as much as you want. Our studio can house around fifty people but you can arrange your location too.
9. How to sign up for this workshops?
Contact us on our phone number, visit our office, or write us an email.
10. What is the estimated hours of a single workshop?
A single workshop can go for about one and half hours.
11. Who can attend the workshop?
These workshop are good for people of all ages. Children, adolescents, and grown ups are encouraged to apply. We recommend that people below the age of 8 years should be accompanied by their guardians.
12. What is the maxium mumber of participants?
For closed lessons, we recommend that the group should have at least five participants. If there are less than five participants, register your team in the open lessons.
13. Where is the workshop located?
We are located just a few kms from Marymount MRT Station.
14. How many people can your workshop accommodate?
Our location can accommodate fifty participants at a single time. We can do larger programs if you have a larger location.
15. Who will be facilates the workshop?
We designate our experts who are especially trained in this art. We send them to your lessons or training day and they stay with you from the beginning to end. They guide to in every step and help you create the product you want.
Request A Free Quote
Choose from a wide variety of Indoor Team Building Activities from 5 to 400 pax!
Review From Customers
Choon Siong Ng
2020-10-16
I attended a terrarium workshop organised by nus. Was held during covid so conducted over zoom but was still quite fun! The instructor was also very friendly and helpful in answering questions over zoom. Overall was quite an enjoyable experience!
I did the Terrarium Workshop as part of my university's welfare event. It is a nice break from the hectic university life 🙂
Dakshitaa Venkatesh Babu
2020-10-16
Very fun & chill terrarium making workshop to destress. Conductor Zee was so chill and funny that made all of us relax & enjoy
Zee was very funny and engaging. Had great fun.
Had a fun time at their terrarium making workshop!
Had a great Terrarium making workshop with Zee. (:
Had alot of fun at the zoom Terrarium Workshop organized by my university. End product exceeded my expectations and i enjoyed the process. Items were well packaged for delivery!
I did the Terrarium Workshop and Leather Crafting Workshop over zoom with them : ) the instructors were really patient and engaging
Trusted by these esteemed clients: